At some point in the winter I started having fantasies about dragging some friends to Joshua Tree to see the desert in bloom and do some rock climbing.  I had climbed in gyms previously and loved it but had never tried actual rocks.  So, the day came when I kissed my little boy goodbye, and headed south with three friends from high school I had not seen in some years.  Nearly 15 years later, two of us are divorced, another engaged and one happily married.  No matter.  This trip was about seeing some flowers, climbing some rocks and spending time with good buddies.
We came into the park via the south entrance so we could see if the flowers were blooming.  The next few photos to follow are all of the Cholla garden.
The next photos were taken en route to Hidden Valley, where we were camping and of our climbing escapades:
Turns out Joshua Tree's are not really trees at all, but actually in the Yucca family.  Learn something new every day.  (Thanks, Ky.)
As soon as we pull into our campsite, our climbing guru insists we get a climb in before the sun goes down.  None of us really feel like it but that's what we're here for right?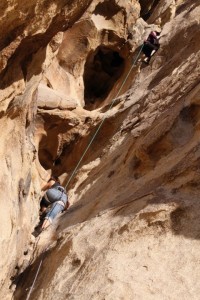 Our guru tells us this climb is basic.  "It's just like a big ladder."  He seems to mean it.  He scampers up the rock ahead like the proverbial billy-goat.  I am skeptical but in true Ehlers fashion, I charge ahead.  Mostly figuring if I go first, I won't have time to be scared as I watch everyone forge ahead.  Besides, how hard can it be?  It was not impossible but what I can tell you is that if you have only climbed in gyms, climbing on rocks is a very, very different experience.  I did okay, but it was not a ladder.  By a long shot.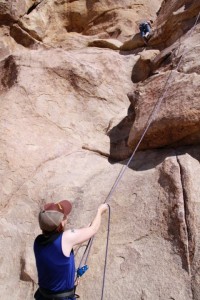 This next run we did the following day.  This was a sheer-ish face and it took a lot of climbing shoe use and trust to get up what looked like a climb with zero foot and hand holds.  We all made it, though.  And the view from the top was immaculate.  And high.  Mostly when I climb I try to focus on where my hands and feet are going and not on what my brain usually wants to think about "Wow, the ground is really far down there."  and "Hmmm.  A metal peg in granite is what is holding me secure.  Does that make sense?"
And for this climb, we got a little help from our friends in order to get into the swing of things.
Fun Stuff was my favorite climb of the whole trip.
Shadows coming down the back side of Cyclops.  No, I did not get cell service up there though I was kindof hoping to have a chat with my little man that day.
And that's the sun setting over Joshua Tree.  The sunsets are amazing in the desert.  As is hiking through the Chasm by moonlight.  Too bad I didn't get any photos of that...  maybe next time.