Triple Digits | 3 New Cases | 101 Fatality | Broiler Fire | McCarthy Memorial | Pon Farewell | Skate Park | Booneville/Boonville | Offender Mentor | Navarro Ridge | Fundraiser Canceled | Numbered Twins | Redwood Caregivers | Redneck Sushi | FB Stickup | Comptche Home | Fire Money | Water Conservation | Fast Molly | Firebreak Trail | Wastewater Tour | Quiet Fireworks | Unknown Hell | Mail Lady | Spousal Knowledge | Ed Notes | Yesterday's Catch | Space Cult | 1912 Warning | Republican Virus | Freedummy | eScam | Sketch Artist | Losing End | Stripmall Progression | TV Wasteland | Suicidal Deer | Wildlife Crossings | Effing Marquee | Enduring Freedom

HOT AND DRY WEATHER will be likely during the remainder of the week as temperatures across interior valleys reach the triple digits. Elsewhere, a marine airmass will keep coastal areas seasonably cool, though periods of afternoon sunshine will be possible resulting in moderating temperatures. (NWS)

3 NEW COVID CASES reported in Mendocino County yesterday afternoon.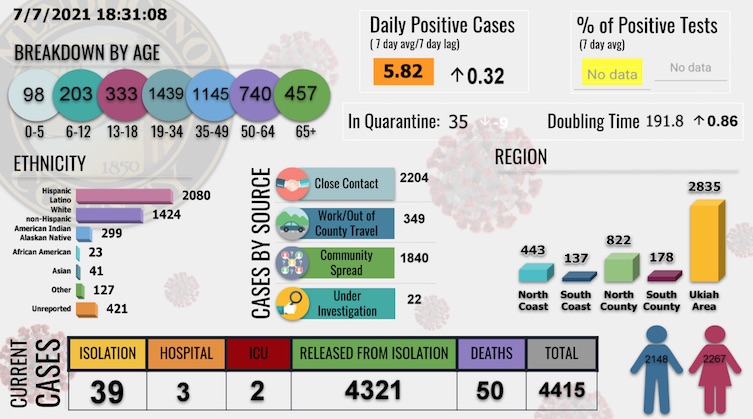 A HUMBOLDT COUNTY MAN WAS KILLED TUESDAY when the van he was driving overturned on Highway 101 near Laytonville, the California Highway Patrol reported.
According to the CHP, the driver of a GMC van was southbound on Hwy. 101 near Laytonville around 11:55 a.m. July 6 when, for unknown reasons, the man drove the van off the roadway edge and lost control of the vehicle just north of Highway 162.
The van overturned several times before coming to rest in one of the southbound lanes. The driver was partially ejected and sustained fatal injuries. He was identified by the Mendocino County Sheriff's Office Wednesday as David Paul Rhoby, 67, of Shelter Cove.
Personnel from Caltrans, the Mendocino County Sheriff's Office and the Long Valley Volunteer Fire Department responded to the collision along with the CHP, which is still investigating the incident and reports that it is unclear whether drugs or alcohol were factors in the collision.

FIRE IN REDWOOD VALLEY BURNS STRUCTURES, EVACUATES RESIDENTS
by Justine Frederiksen
Hundreds of residents in Redwood Valley were evacuated Wednesday afternoon when a vegetation fire started near the Broiler Steak House.
The fire was first reported around 2:45 p.m. July 7 in the area behind the restaurant on Uva Drive and described as about five to 10 acres in size with a moderate rate of spread and threatening structures. According to scanner traffic, the possible cause of the fire was a lawn mower.
The fire quickly closed the intersection of Uva Drive and West Road, and soon residents of the Vineyard Oaks area, including a mobile home park, were evacuated. At least one structure was destroyed at the corner of Uva Drive and School Way, with multiple other structures damaged.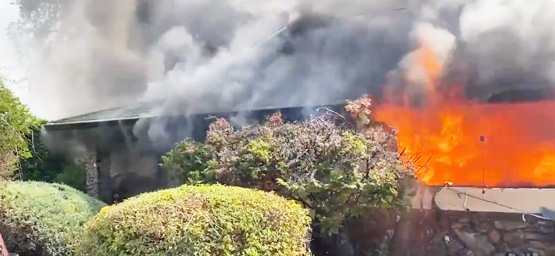 At least one witness reported that firefighters appeared to be getting a handle on the fire around 3:30 p.m., but around 3:45 p.m., evacuations were expanded to Lennix Drive and Smith Lane as the fire was reportedly "creeping up the back" toward Forsythe Lane.
Around 4 p.m., the fire had reportedly jumped West Road and was heading toward Calpella, with evacuations expanded again and emergency personnel going door-to-door to notify residents.
Around 4:35 p.m., mutual aid was requested from most fire departments in Mendocino County, including from the Mendocino Coast. An "Type 3 Immediate Need Strike Team" was requested around 4:40 p.m. Also around 4:40 p.m., it was reported that the power distribution lines would be de-energized from the Barra Winery on North State Street to the Willits Grade.
As of 4:45 p.m., Cal Fire described the fire as 50 acres in size with zero-percent containment.
As of 4:54 p.m., the Mendocino County Sheriff's Office described the evacuation zone as "south of Uva Place from Highway 101 to Lennix Drive and Uva Drive south to Central Avenue to the Highway 101 off-ramp."
When asked around 6 p.m. when people might be allowed to return to their homes, a spokesman for the Mendocino County Sheriff's Office said that it was still unknown when evacuation orders might be lifted, but that "it sounds like forward progress was stopped and fire crews are trying to establish containment."
As of 6:30 p.m., Cal Fire reported that the fire's forward progress had been stopped at 80 acres, and it was 20-percent contained. The agency also reported that "fire crews will remain overnight at incident establishing control lines."
According to Cal Fire, one structure was destroyed, and "unknown number" of structures were damaged, and at one point 80 structures were threatened.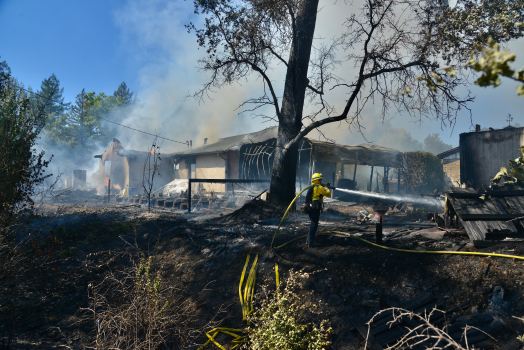 During the fire, the MCSO reported that the Ukiah Animal Shelter was accepting animals and that humans were being sheltered at the Mendocino College Dance Studio. By 8:20 p.m., the MCSO reported that the shelter had closed and most people were being allowed to return to their homes.
One of the pieces of Cal Fire equipment battling the blaze Wednesday was Copter 104 (or Boggs 104), a Sikorsky S70i Fire Hawk helicopter that can carry 1,000 gallons of water in its "belly," no bucket needed. The helicopter is stationed in Lake County.
(Ukiah Daily Journal)

MEMORIAL SERVICE FOR PAUL MCCARTHY
As you may recall Paul McCarthy of Mendocino Sports Plus passed away last year. His services were postponed due to the Health Order. Paul's Memorial (open to the public) is now set for July 18, 2021 in the back of the Caspar Community Center in Caspar.
Please come to honor our friend and community leader, Paul McCarthy (Mendocino Sports Plus). Please bring a chair or blanket to sit on, consider dressing in the colors of the Mendocino High School Cardinals (Red, Black and White) and give yourself extra time for parking and walking. The event will be outside in the rear of the center. We will come together with music and memories for our beloved Paul.
(Shane McCarthy)

PON SAYS FAREWELL
Dear neighbors, colleagues and friends of Anderson Valley,
I am writing this farewell letter with mixed emotions. This has been one of the most difficult decisions I have had to make. It has been over a decade since I first moved to Mendocino County. I was drawn by the nature and beauty of Anderson Valley but more importantly by the kindness and stories of the people. I have learned so much from everyone that I have encountered through the short conversations in the halls and with those who have sat in the dental chair sharing their stories with me. You have taught me so much. I have learned to listen and by listening I have become a more compassionate clinician. Thank you for entrusting me with your care. It has truly been an honor and pleasure to serve. Even though I am excited to be with my growing family I still have great sadness that I am leaving the valley and the people. But part of me is relieved to know that Anderson Valley Health Center is in great hands and care under the leadership team that makes the Health Center such a great place.
Thank you for the fond memories. I will truly miss everyone of you.
Warm regards,
Pon Tath
Boonville

GOBBLEDYGOOK SKATE PARK
Editor,
Gobbledygook means obscure, verbose bureaucratic language characterized by circumlocution and jargon and usually refers to the meaningless officialese turned out by government agencies.
One example: Monte Rio Skate Park. How can nothing be done for six or seven years!? My daughter does not speak gobbledygook. She speaks plain English. "Chill vibes, relaxing." Locals are nice. They taught her and her brother to skate. "Cooler than Sebastopol and it is pretty."
So I initiated the (gobbledygook): "Monte Rio Creekside Skate Park Improvement Community Community Association." This is a creative desperate plea for help from the skate park community — yes, a skate park community exists — to the powers that be. We have boldly taken a survey of most of the skaters of Monte Rio including 10-12 children and made a map and a top-five improvements list! Then we gave it to Leslie, the park superintendent. She said, This is a great; let me see what I can do!
Now we have a meeting with the Monte Rio City Council or board members or some people of great importance to see if they will cough up some money for the park improvements.
The meeting is at the Monte Rio Community Center across from the theater at 6 PM on July 12.
A pro skater named Kenny Reed will be there to show his support!
I will keep up-to-date on this and let everyone know what happens on the 12th.
Oakey Joe Munson
Oh! Tony Trujillo should be there also! Join us if you are so inclined.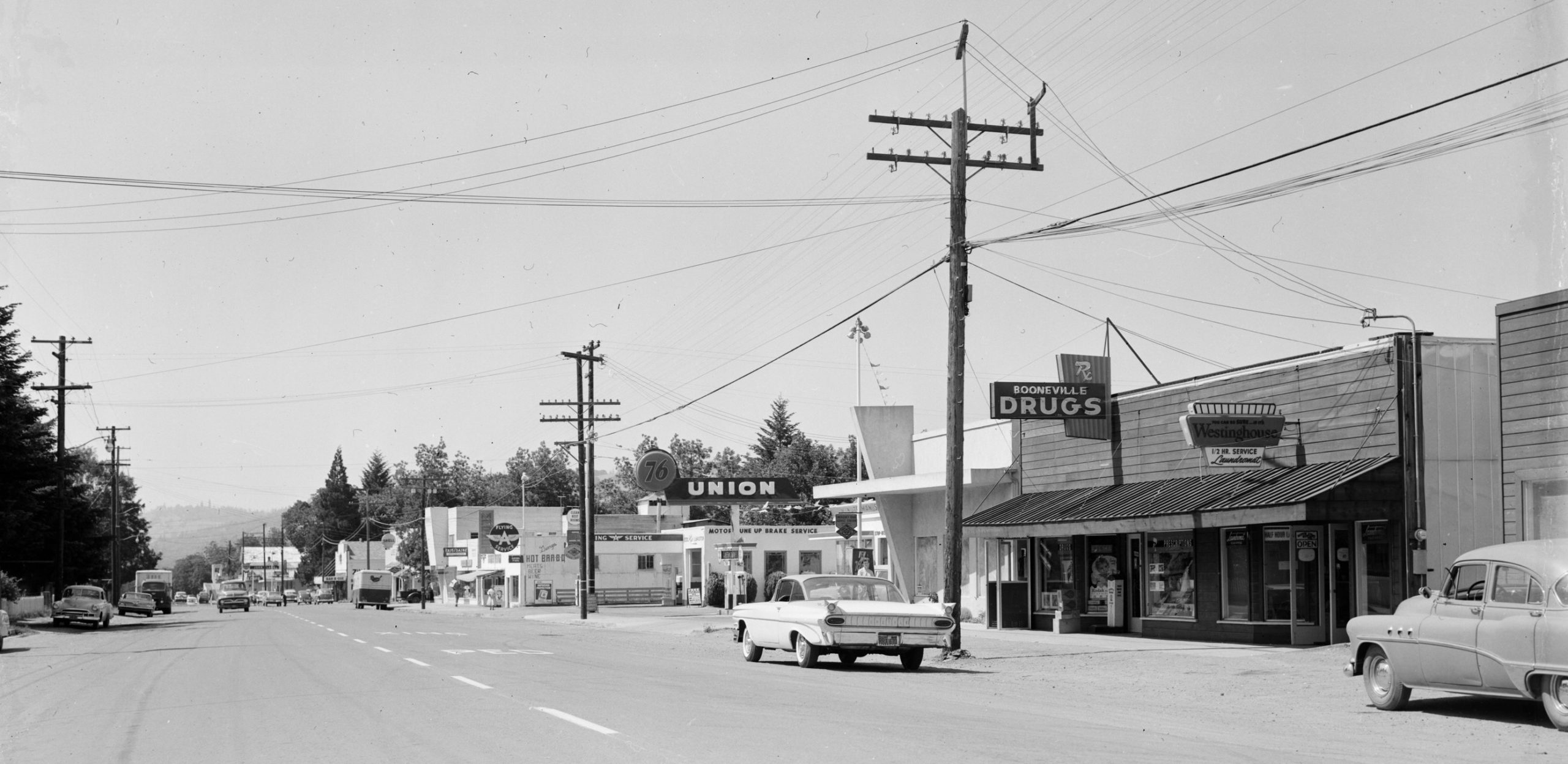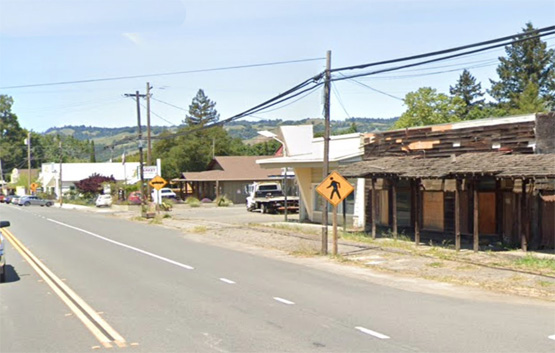 LETTERS AFTER THE NAME
Dear AVA & Company,
It has been a long while since I've written. However, I think about you all quite often. Of course, always when I'm reading the AVA which I share with several guys here. I'm grateful for the continued subscription. My friend the late Jim Houle (a frequent AVA contributor) paid for my subscription for many years. He was a good man and human being. So I doubly appreciate your gift.
I recently graduated the Offender Mentor Certification Program (OMCP) which is a highly selective, intensive program funded by the Department of Rehabilitative Programs (DRT) to train inmates to become substance use disorder counselors. On June 9, I and others took our certification test through the national certifying body, the NAADAC, which I passed. I am now officially a Substance Use Disorder Certified Counselor (SUDCC), which is my job in prison. So when I get to the streets (hopefully) someday, I now have a career. This is the highest accomplishment of that order that I've ever achieved. So that's pretty cool.
Other than that, not much to tell. I will be shipping off to California Men's Colony near San Luis Obispo soon to start working in the substance use treatment program there. It's part of the contract we sign that when we complete our training we can be sent to various institutions throughout the state as needed.
The other news is Valley State Prison is going to be the flagship for the "Norwegian model" that CDCR intends to adopt in the coming years. This place received an extra $14 million on top of the usual annual budget to start implementing it. Of course Norwegian corrections staff has the equivalent of a bachelor's college degree in social work unlike the correctional officers here. It's going to take a lot to change the corrupt criminal culture of the California prison system and I'm not talking about the inmates. However, it's a great place to start and I'm glad it's happening.
Prison for the most part is a lot better than it used to be when I started my time almost 30 years ago. Back then they were really bad, especially the level 4s which were war zone bloodbaths.
I'm going to file another commutation application shortly. Hopefully Governor Gavin Newsom will see fit to commute my life-without sentenced to life so I can go to the Board of Parole Hearings. That or perhaps some of these proposed laws concerning LWOP will go into effect. Either way things are looking hopeful.
Thanks for everything. Keep up the good work.
Peace,
Leif Berkson, SUDCC-1 (Letters by my name are pretty cool!)
Valley State Prison, Chowchilla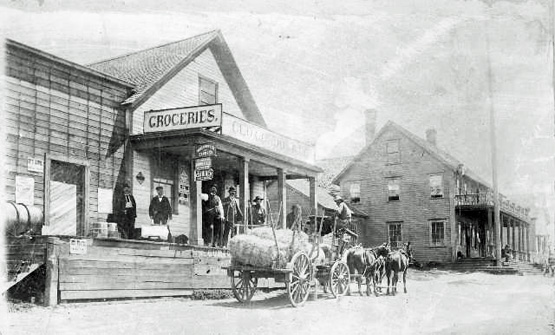 CANCELED: JULY 10 FUNDRAISER
An outdoor fundraiser at the Grace Hudson Museum this weekend has now been canceled due to the heatwave that can create dangerous health conditions. Due to the forecasted high temperature of 107 degrees this Saturday, the Museum and the boards of the Sun House Guild and Art Center Ukiah have decided to postpone this event. The plan is to postpone this special plein-air fundraiser until spring 2022, when we have a better chance at milder weather. We hope to have a new date identified in the near future. Organizers apologized for the inconvenience. Thank you, all, for caring about the Grace Hudson Museum and the Corner Gallery.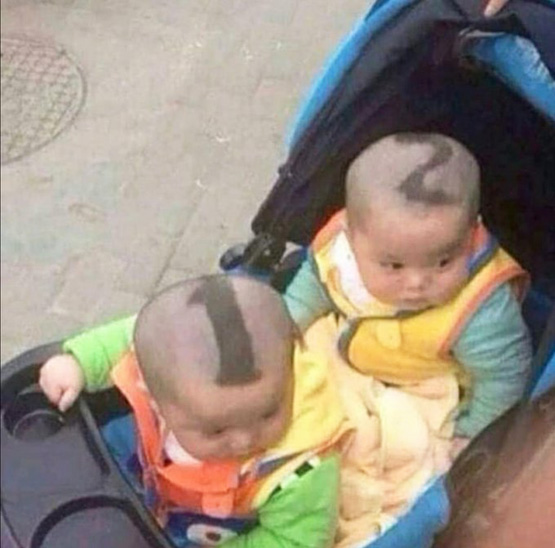 MEET THE PROGRAM DIRECTOR of the Redwood Caregivers Resource Center this Sunday!
Don't miss this great opportunity to learn about the valuable resources available to Caregivers! Or just come and learn more about the AV Village. See some old friends, make some new ones! See you Sunday.
This Sunday July 11th, 4 to 5:30 PM, AV Senior Center - Outside.
Join us for a conversation with Nancy Power Stone, Program Director at the Redwood Caregivers Resource Center. They provide services, including possible respite, to assist caregivers of older, frail individuals, or to assist older caregivers of people of any age who have disabilities and more.
Helpful fact sheets and links at website: www.redwoodcrc.org.
As we are opening back up we invite you to bring a friend that would like to learn more about the AV Village.
If you would like to bring finger food (no dips please) let us know - thank you!
Our gatherings are open to everyone, but we ask that you are vaccinated and "marinated" so you can attend. Masks are REQUIRED if you are not vaccinated.
Please RSVP with the coordinator thank you!
— Anica Williams, Anderson Valley Village Coordinator, Cell: 707-684-9829, Email: andersonvalleyvillage@gmail.com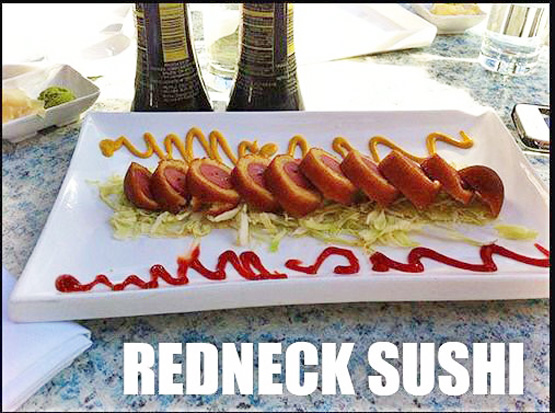 RITE-AID ROBBER
On July 6, 2021 at approximately 5:40 P.M., Officer Anthony Welter and Officer Padraic Ferris of the Fort Bragg Police Department were dispatched to 490 S. Franklin Street, Rite Aid, for the report of a robbery involving a firearm. The suspect had reportedly fled the location towards the Department of Motor Vehicles, located in the 400 block of S Franklin Street. Officers responded and arrived in the area within two minutes of receiving the call. Officer Welter began a check of the area for the suspect while Officer Ferris contacted the witnesses to the incident at Rite Aid.
During the investigation, it was determined the suspect, later identified as Kevin Seltenrich, 68, of Santa Rosa, had entered Rite Aid and approached a teller. Seltenrich demanded money from the register, threatening he was in possession of a firearm and was willing to use it if his demands were not met. After being provided with the money, Seltenrich fled the location towards the Department of Motor Vehicles. Officers also obtained an updated description of Seltenrich, and broadcast it to the units searching the area. It was also determined while Seltenrich threatened to be in possession of a firearm, he never displayed one.
At approximately 5:54 P.M., Officer Welter located Seltenrich, who matched the suspect description, crouching behind a wooden box located in the alleyway east of the 300 block of S. Franklin Street. Officer Welter detained Seltenrich and took him into custody without incident.
At the time of his detention, Seltenrich was in possession of the reported stolen money. Officers also conducted an infield show up at which time a witness positively identified him.
Seltenrich was transported to the Mendocino County Jail and booked for Robbery and Terrorist Threats.
No one sustained physical injury during this incident. No firearm was located.
Seltenrich is currently on Federal supervised release out of Sonoma County for bank robbery.
If you have any further information on this incident, please contact Officer Welter at (707) 961-2800 ext. 168. Anonymous information can be left on the Crime Tip Hotline at (707) 961-3049.
(Fort Bragg Police presser; booking photo not yet available.)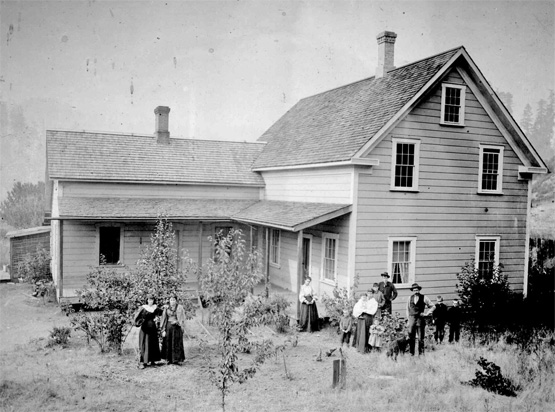 SUPERVISOR WILLIAMS:
The four critical weather elements that produce extreme fire behavior are low relative humidity, strong surface wind, unstable air, and drought.
A myriad of credible projects have requested allocation from the $22 million PG&E fire settlement money, but I can't help but wonder whether the public would prefer allocate the whole amount to bolster local fire services?
It's great to see CalFire staffing the Mendocino Unit like never before, but this further highlights projected risk.
* * *
POINT ARENA CITY MANAGER Paul Andersen:
I believe fire settlement money should only be used to address prior wildfires and mitigate and prevent future ones. Unfortunately, the settlement money has turned into a grab bag for departments across the county that have nothing to do with the reason this funding was provided.

SAVE WATER
Dear Friends and Neighbors,
Many thanks to all of you who have made saving water a priority. As a measure of accomplishment, we have successfully exceeded the first milestone date/lake level set by the State Water Board. Storage at Lake Mendocino was 30,457-acre feet on July 2; the July 1 minimum threshold was 29,315-acre feet. Good job, everyone!
That being said, water conservation is here to stay. We are only at the beginning of summer and this picture of Lake Mendocino tells us much about the current status of our water supply.
To gain some perspective on the situation, we are providing a few videos that look at the bigger picture of drought challenges. California is not the only place in the world coping with water shortages. In fact, many countries, including Australia and South Africa, have much more severe water supply issues. How do they get by? Here are a few videos to explore this question:
Getting by on 13 gallons/person/day in South Africa: National Geographic in Cape Town:
Surviving drought (and heat) in Australia on 41 gallons/person/day:
Coping with permanent drought: a global perspective on using 23 gal/person/day:
Lana Mazahreh: 3 thoughtful ways to conserve water | TED Talk
Water conservation videos:
Sonoma Water's new water use awareness video here on YouTube. Tips for saving water:
Announcements:
The Mendocino County Drought Task Force is meeting:
07/08/2021 4:00 PM - 5:30 PM on Zoom: https://mendocinocounty.zoom.us/j/88971765675...
(Call In: 669-900-9128, Webinar ID: 899 7176 5675, Passcode: 665233)
We have lawn signs available! If you would like one, please respond to this email with your name and address.
To view the previous weekly drought messages, go to https://mcrcd.org/.../drought-water-conservation-resources.
(Mendocino Water Agency Presser)


SUPERVISOR MULHEREN
I spent an hour or so on Monday, June 28, having a Cannabis convo with a consultant for Phase 1 farmers. She said she is ready with 20 applications just waiting for the County to reopen the portal to get them through the process. No one denies that the cannabis program has been clunky especially moving between departments. Now that it is its own department I think we will be able to see our way out of the mess and get farmers through to licensure.
. . .
On Friday morning I was honored to be asked to speak at a Great Redwood Trail Press Conference. The State has allocated $16 million dollars in the budget for the Master Plan and rail banking so we can bring this vision to fruition. You can read more here: https://www.willitsnews.com/2021/07/05/great-redwood-trail-one-step-closer-to-reality-state-sen-mike-mcguire-announces/
* * *
ACCORDING to a report by Ukiah Daily Journal's Justine Frederiksen, McGuire's announcement was that $16.5 million of state funds "has been secured for the Great Redwood Trail," the majority of which, $10 million, will go toward what he called "the blueprint for the project, the Master Plan." This funding, McGuire said, will pay for efforts to "design the trail, determine its operation and maintenance costs, study the route, analyze the material, and fund a community engagement process (that will) seek neighbor feedback for all 300 miles of the trail."
2nd District Mendocino County Supervisor Maureen Mulheren, whom McGuire introduced as a longtime champion of the trail, from as far back as when the Ukiah section was called the Rail Trail, said the funding was "great news," and announced that the city of Ukiah had "recently received a $3-million grant for Phase 4 of the trail, which will expand the trail the entire three-mile length of the city limits. I'm thrilled to see so much support from the state for the build-out."
When the panel was asked about the potential fire danger posed by the trail potentially bringing more human activity into forested areas, Caryl Hart, the former director of Sonoma County Regional Parks, said, "What causes fires is not trail users, and legal uses of an area drives out the illegal uses," which she said were more likely to cause fires. "When there is a trail in a wilderness area, the number of fires go down, not up," added McGuire, describing the trail itself as a "fire break," and the trail users as "extra sets of eyeballs" to see and report fires.
AND THERE'S where we going to need to see some professional input and substantiation. Senator McGuire's claim that trails — in his case his pet project the Great Redwood Trail — will reduce fire risk sounds very self-serving.

MEMBRANE BIOREACTOR TOUR
Last month the Anderson Valley Community Services District reviewed a "virtual tour" of the "membrane bioreactor" wastewater treatment facility at Smith River (Del Norte County) which is similar to the system being considered for Anderson Valley. (About 15 minutes).

QUIET FIREWORKS
CHRIS SKYHAWK: "My apartment is near the hospital in Fort Bragg, with a sweeping perch above the Noyo canyon. I very much enjoy the daily efforts of the osprey parents who nest in the harbor, as they diligently care for their young. As I listened to the fireworks from the harbor on 4th of July, the first boom rolling up the canyon, the echo from the back rolling back down, I thought about my osprey friends and thousands of other animal parents I know nothing about, trying to keep themselves and their offspring calm. Of course pets and also people are very stressed by the rumblings. There is something that helps: quiet fireworks where you get the lights but not the bangs. Let's go with those next year and show Americans aren't always so rude and inconsiderate."
* * *
Marco McClean here, Chris. There's a song by Elvis Costello called Indoor Fireworks, about parents fighting, from the point of view of little Elvis. Giants screaming at each other out in the kitchen, or above him in the living room. Or it might also be about his fighty relationship, as an adult, with a woman (or a man, if he's gay; not that there's anything wrong with that). I'm never sure. I suppose I could look it up and study the lyrics and sort it out. Songs aren't always only about the literal lyrics, though.
Also, lightning and thunder and just weather in general is too loud and dramatic and frightens the horses. We should hold out for the quiet kind of weather, like it used to be in halcyon memory, in the soft-focus-all-black-and-white time, where lightning didn't flash so bright and there'd be just a sort of pleasant pop or poomph, not the way it is now, with the crashing and the booming and the atomic-bomb-silhouette shadows of tree branches on the curtains, where dogs flee under the piano or behind the bathtub and you feel like rushing out to shake your fist at the sky and tell them up there to fucking turn it down, people are trying to sleep!
Marco McClean, memo@mcn.org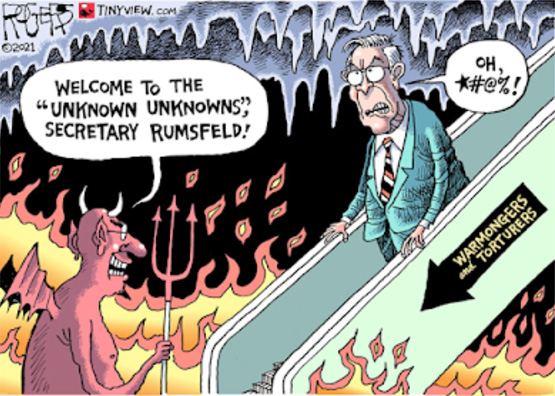 ON THE ROAD with The Mail Lady
(AVA, September 19, 2007) — Jan Walker is more commonly known from Anderson Valley to Point Arena as Jan The Mail Lady. Jan sets out from her home in Yorkville before sunrise six days a week, and doesn't return to her home in Yorkville until the sun is dipping into the sea, whose shores Jan visits every day but Sunday, 51,148 miles a year in her long white mail van, delivering and retrieving mail for customers in the vast areas lying between Cloverdale, the Anderson Valley, Greenwood Road and Elk, Manchester and Point Arena.
When she reaches Point Arena, Jan The Mail Lady reverses herself and makes her way all the way back to Cloverdale and finally back home to Yorkville, the whole loop being nearly two hundred miles of winding road replete with hazards ranging from drunk drivers to barely accessible mailboxes erected by persons who seem to think their mail flies into their boxes on its own.
Six days a week for nearly 40 years, Jan has successfully negotiated what most drivers might rightly regard as a sort of highway obstacle course, and she does it with an amiable nonchalance belying the difficulty of her daily regimen.
This lady is on task, even with me peppering her with questions from the passenger seat. When someone isn't taking up the passenger seat, which someone isn't most days, Jan The Mail Lady, a great reader who scours the county's library system for books-on-tape, has accumulated the equivalent of several PhD's in English and American literature.
In all those difficult miles over all those twenty years beginning in 1987 Jan has had one accident when "a guy kinda ran into me and scraped up the side of my van."
That's it, that and no missed days regardless of the weather, and Mendocino County can get some real weather in the winter when the Garcia near the Stornetta Ranch just north of Point Arena, which Jan passes over or through, depending on rainfall, can be flooded by torrents in the winter months, twice a day every day but Sunday.
And trees fall across the road, and animals run out in front of her van and odd people pop out of the bushes beside the road, "Which is fine with me so long as they stay out of the road," Jan laughs.
By the time I boarded Jan's van in Boonville, she'd already been on the job for a couple of hours. She'd driven from Yorkville to the Cloverdale Post Office where she picked up the mail for several thousand people strewn over some 500 square miles of western Mendocino County. (No Netflix without Jan The Mail Lady.) She dropped off Boonville's mail at the Boonville Post Office and was headed for Philo where Joe and Sheila will quickly have it in their customer's boxes by noon, usually way before noon. Then it was up and over the Greenwood Road to Elk where Melissa and, occasionally, the late, legendary Mr. Joel Waldman, direct the day's post to its seaside destinations. Down the road at Manchester Kathy with a 'y' is filling in for Kathe with an 'e,' and in Point Arena, previously home post office for Boonville's much missed postmaster, Al Zischke, Kathy and Shawn are hurrying around Point Arena's hillside post office.
As the day grows longer, it occured to me that I am meeting one highly capable woman after another, confirming old suspicions that Mendocino County is held together by women, capable men having always seemed in short supply.
As we pulled into Point Arena, Eddie Scaramella drove up in his perfectly maintained early 1950s Chevrolet, a museum piece with probably not more than 10,000 miles on it since his dad, the late Supervisor Joe Scaramella, drove it out of the show room in Santa Rosa. Scaramella drives it from his service station a block away to the post office, and then he drives it back to his service station and puts the pristine vehicle back in its box. Scaramella has turned down numerous offers from car collectors for his rare Chevy. "I'll sell it when they move the post office next to my gas station," he said.
The Point Arena Post Office's front door features a sort of town greeter whose high decibel conversations are apparently independent of second parties. The greeter is talking loudly to himself as we arrive. "Local color," Jan said.
We drove the six steep miles up the hill to the long abandoned Point Arena Air Force Radar Station we found… Well, imagine a tiny suburb, complete with a two-lane bowling alley, a community swimming pool, a gym, a mess hall, and thirty neat little homes whose residents have disappeared, a self-contained village with no people. "Every election someone running for supervisor says they want to do something with this place," Jan comments, "but nothing ever happens."
Jan The Mail Lady most certainly knows more about her vast service area than any politician does. She knows all the people and, as we make the rounds, notes changes in the landscape I would have missed completely if she hadn't pointed them out. "That's a new road there, and that house on the bluff just appeared one day, it seemed, it went up so fast."
After a truly excellent lunch at The Point Arena Record Building, we reverse direction and headed back to Boonville, the sun at our backs. When Jan dropped me off at Uncle Ed's Ice Cream and Assorted Edibles, Edward F. Donovan the Fourth, proprietor, Jan The Mail Lady still has to drive to Cloverdale and then back to her home in Yorkville.
Whatever the Post Office pays her it isn't enough.
(Jan Walker retired from her long-time post office post in early 2020.)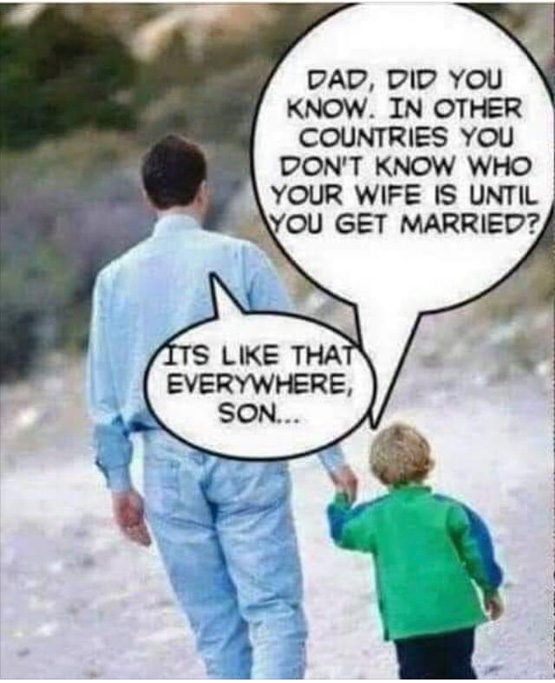 ED NOTES
LEW CHICHESTER OF COVELO WRITES: "Regarding trash, the writer who is aware that Idaho had dumpsters on the side of the road and very low fees, a movie I've seen with dumpsters scattered about in a residential area and available for residents to dispose of household garbage for free, and a visit to Hawaii as a tourist and remarking that every time I needed to dispose of some packaging there was a dumpster, right there! What would it take to at least do a coherent feasibility study in Mendocino County to get a grip on the trash all over the place? It is really bad here, getting worse. John Haschak and the [Round Valley] Tribe have applied through the County of Mendocino for a big ($1 million) grant to clean up the abandoned cars and a few unauthorized dumps on the Rez, but this needs to be done all over the place. Something like what is mentioned in Idaho or Hawaii would help a lot. Free dumpsters, everywhere. What would that really cost? The present alternative is not working very well."
I THINK the county should subsidize dump fees, making them low enough that low income people would be more likely to properly offload their detritus. You would think a tourist economy like ours would do an Idaho and/or Hawaii. You would also think that an environmentally sensitive population like ours would also demand low cost or free trash disposal. But as Mendocino County raffles off what used to be government functions, I don't see subsidized trash disposal as high priority with the supervisors. Only a stone atheist would toss a bag of garbage into a stream, which I've seen here in the Anderson Valley and all over Mendocino County, not that I've caught any of them in the act.
SAVVY COMMENT on Kym Kemp's chat line today that nicely puts the Green Rush in historical context:
Clone suppliers must be making a killing this year. Some of these places have been re-planted several times this season. The folks making the most aren't the growers.

Clone producers

Water haulers

Soil providers

Hardware stores

Etc…

They are killing it.

Growers not so much.

In the gold rush days the merchants became wealthy while the miners died a slow death.

Green rush honestly is just as deadly for many.
(HE LEFT OFF pot bureaucrats and sub-bureacrats who are popping up with high government salaries all over.)
AMEN, and with prices in the basement because of greenhouse over-production, for a lot of growers here in the Triangle, 2021 is shaping up as a very bad year, for the hoop house boys especially, the Johnny Come Latelys of the Triangle's pot business.
A RELIABLE SOURCE says Red Beard has recently been seen on video burglarizing another house in the Cameron Road area of Elk, this one near Cameron's junction with the Greenwood Road where, as it happens, well known local figures Mea Bloyd and her mom, Amy, live. (Mea's the unfailingly helpful clerk at Jack's Valley Store.) In his latest raid on the refrigerators and pantries of Upper Elk, Red Beard is seen trundling off with a wheelbarrow full of food and booze before he disappears into the wild, heavily forested vastness between Greenwood Ridge and the Navarro River, where pot pioneer Pebs Trippett's peaceful neighborhood rests on the south bank of the Navarro. It seems pretty clear that Beard has been roughing it out there since January when the following press release about him appeared based on the Sheriff's first presser about him in late April:
"The Mendocino County Sheriff's Office is seeking community assistance in identifying the subject depicted in this photograph.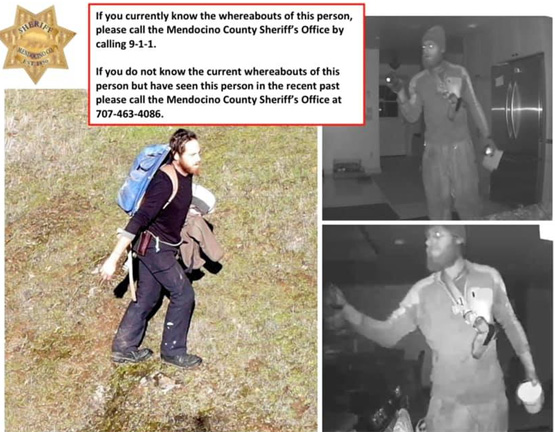 This subject is a person of interest in several burglary investigations in multiple areas within Mendocino County since January of this year. The subject was last observed in the area of Elk,. and currently may be on the Mendocino Coast. The subject is described as a white male adult, about 5'10" in height and 180-pounds, with a red beard. The subject was last seen wearing dark clothing, a knit hat, and carrying a dark backpack. It is presumed the subject is transient and travels on foot…"
CURIOUS about how the emergency services people got that guy off Frog Woman Rock the other day, where he was stuck and a sobbing, panicked wreck, I called the Hopland Fire Station where firefighter and EMT Ron Roysum told me, "Helicopter. Took him off from above because it was the quickest, easiest way to get him down. Otherwise, it would have been a couple of hours ordeal getting access."
The youngish man wasn't trying to go straight up the face of the rock but took himself more to the south where he found himself unable to go up or down the way he came. Mr. Roysum agreed that the climber was "old enough to know better." Roysum said rescue personnel does trainings at that site but climber rescues are rare.
A LOCAL WOMAN FACEBOOKED: "Why is the Philo Post Office so difficult to deal with?"
Local facebookers replied:
I was feeling that way for a while but have had good experiences recently. I feel that way about the clinic. Used to be we all knew and trusted each other but now it's different.

* * *

Right and we are the people who have been in the valley for years.

* * *

Sorry, had to lol for real. Am having to fill out the third proof of existence in the last four or five months. 50 years at the place not good enuf. I think they are just having to tow the line from DC. We want them to exist so I will try not to whine at finding a bill with our street address on it. Again!

* * *

Philo is not the only one having difficulty.

* * *

Maybe I've been lucky, but I've had good experiences with the Philo PO. They do seem to follow the rules, which seems to me to be a very good thing. Maybe we should all give them a chance…

* * *

Let's ask ourselves what we want to accomplish here. we have people who are frustrated with a service, and recent changes in that service, and people trying to do a job. unless you've been very lucky, jobs require certain processes and procedures.

Doesn't mean those processes and procedures are perfect. Doesn't mean any individual involved, on either side, is perfect either.

So what do we want to accomplish? I'd say we all want our mail sent and delivered and for everything to go smoothly. We all want a community of real people seeing each other as fellow human beings trying to have the best life we can.

Meanwhile, social media is a massive convenience that makes money by consuming our attention using algorithms, i.e., automated processes, to keep us on the site. Automated processes are not perfect either. and to push engagement, we're all automatically encouraged toward negative behaviors because negative behaviors are more compelling and addictive. It's good to think about that if you haven't already.

So it's easy to complain here and receive feedback and get a temporary kick (for good or ill), but this is not going to humanize the process of getting your mail in a calm and friendly manner.

The Philo postmaster - a member of boontswap, btw - is a real person fulfilling responsibilities inherent in a job. I do know him personally, but I've intro'd myself in the course of okaying his entry to this board. you know, just saying hello.

I suggest you all do the same when there's a moment for it. He may not remember your name (I don't know half the people in this valley anymore). But he might just remember the quality of the interaction. Just saying, be a person, not a FB automaton.

And i'd encourage you, in whatever sphere, to apply your humanity in difficult situations similar to this one, where the ultimate goal is to make things work for everyone.

The internet has allowed us to see how very, very inept humans actually are at making things work for everyone, on a global scale. Personally, I don't trust our alleged leaders to solve this problem, but nothing can stop us, as individuals, from finding a better way in our own neighborhoods.

Thanks for reading, folks. Carry on.

* * *

I myself have not had any problems with dealing with them. Maybe it was the help of Amy Bloyd when she was still working there. I think she helped bridge the gap with the new postmaster because we were good friends when I lived here in the valley many moons ago. Now when I go inside we always have a good conversation and he is very helpful. It is much easier now that they have all those lockers for packages. Just try to smile and be friendly. I think that would help!

CATCH OF THE DAY, July 6, 2021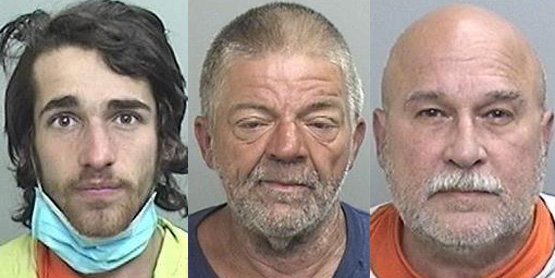 KYLE AYERS, Willits. Petty theft, stolen property, concealed dirk-dagger.
RICHARD CAUCKWELL, Disorderly conduct-alcohol. (Frequent flyer.)
KEVIN CLARK, Fort Bragg. Trespassing-refusing to leave.
BO EDER, Fort Bragg. Failure to appear.
CHRISTOPHER HEANEY, Ukiah. Protective order violation.
DANIEL HEATH, Ukiah. Failure to appear, probation revocation.
JARED PERRY, Ukiah. Disoderly conduct-alcohol, controlled substance.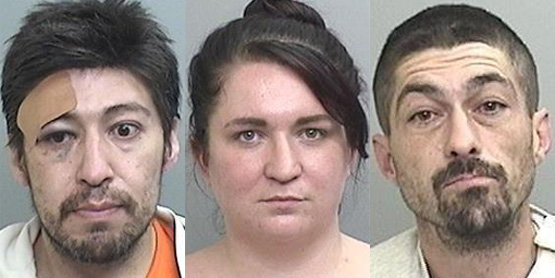 ADRIAN SOSA, Ukiah. Assault with deadly weapon not a gun, domestic abuse.
STEPHANIE SPEARS, Ukiah. DUI.
RICHARD WASHBURN, Ukiah. DUI, probation revocation.

DOWN THE YANGTZE RIVER the awful prediction has been fulfilled. You expect this river trip to be an experience of the past -- and it is. But it is also a glimpse of the future. In 100 years or so under a cold uncolonized moon what we call the civilized world will all look like China, muddy and senile and old fangled: no trees, no birds, and shortages of fuel and metal and meat. But plenty of push carts, cobblestones, ditch diggers and wooden inventions. 900 million farmers splashing through puddles and the rest of the population growing weak and blind working the crashing looms in black factories.
Forget rocket ships, super technology, moving sidewalks and all the rubbishy hope of science fiction. No one will ever go to Mars and live. A religion has evolved from the belief that we have a future in outer space. But it is a half-baked religion -- it is a little like Mormonism or the Cargo Cult. Our future is the mildly poisoned earth and its smoky air. We are in for hunger and hard work, the highest stage of poverty -- no starvation, but crudeness everywhere, political art, simple language, bad books, brutal laws, plain vegetables and clothes of one color. It will be damp and dull like this. It will be monochrome and crowded -- how could it be different? There will be no Star Wars or Galactic empires and no more money to waste on the loony nationalism of space programs. Our grandchildren will probably live in a version of China. On the dark brown banks of the Yangtze River the future has already arrived.
— Paul Theroux


IT IS INDISPUTABLE that after months of watching the virus seemingly fade from the landscape, cases are starting to creep back up again....The real problem is that the highly contagious Delta variant of the virus is tearing through parts of the country where people clearly would rather die than get an inoculation they associate with a Democratic president.
…if we pull back and look at the bigger picture, it's clear that the main driver of vaccine rejection by far is plain old right-wing trolling. Trump supporters are so angry and bitter at Biden that they have weaponized their own bodies to sabotage his efforts to end the pandemic.
Maybe it feels to them as if refusing vaccination is a good way to stick it to the liberals, but the main result is that the pandemic is raging out of control in "red" areas of the country, while blue states and regions are getting back to normal.
Some sobering statistics: A new Washington Post/ABC poll shows that while 86% of Democrats have gotten at least one shot, only 45% of Republicans have done the same…
To put it even more bluntly, Republicanism is killing people. On the Democratic side of the aisle, polarization is not a problem. If anything, it probably saved lives, because many Democratic voters made it a point of pride to get vaccinated as soon as possible. All 18 of the states that have surpassed Biden's 70% goal voted for him in the 2020 election…
(Rob Rogers, Salon.com)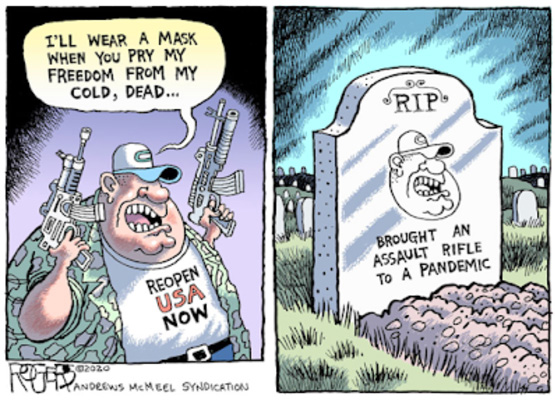 SIC 'EM, SAKO
JOHN SAKOWICZ: I'm reporting this email to the Mendocino County District Attorney's Office as a suspected attempt at EDD identity theft and fraud.
Date 7/7/2021

Notice

It is important that beneficiaries who have an ongoing payment update their Bank of America Debit Card EDD profile to avoid delayed payment of their certifications. Update below and follow the instructions. Kindly fill the form correctly.

https://www. visaprepaidprocessing.com/ EddCard.

Employment Development Department

California State.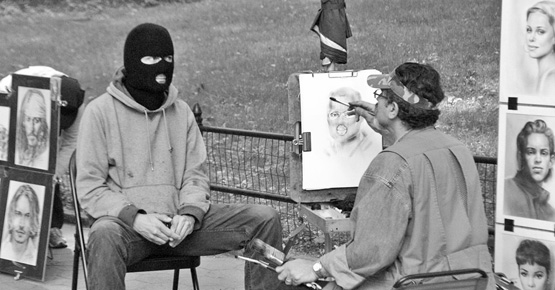 LOSING END
I went into town to see you
yesterday
but you were not home.
So I talked to some old friends
for a while
before I wandered off alone.
It's so hard for me now
But I'll make it somehow,
Though I know I'll never be the same.
Won't you ever change your ways,
It's so hard to make love pay
When you're on the losing end,
And I feel that way again.
Well, I miss you more than ever,
since you've gone
I can hardly maintain.
Things are different round here
every night,
my tears fall down like rain.
It's so hard for me now
But I'll make it somehow,
Though I know I'll never be the same.
Won't you ever change your ways,
It's so hard to make love pay
When you're on the losing end,
And I feel that way again.
— Neil Young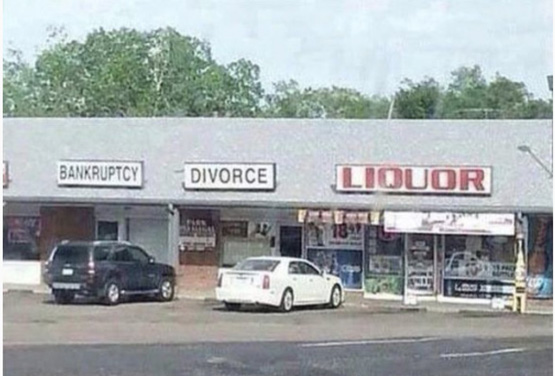 ON LINE COMMENT OF THE DAY
I had been well over a decade that I chucked my TV for good. A few weeks ago I had to spend a night at my mother in law's home. She and her husband have 5 TV's total.
Usually, my sleepy time comes after a couple beers or glasses of wine, reading a book or maybe cracking the laptop open to check out the wit and wisdom of JHK, Greer, and their commenters. But, being fanatic Christians, my hosts will have no drinking in their home. OK, their rules, fine. I don't even drink every night. I looked for books – mine had been packed and were waiting at my new farm. Same with my computer. I looked around. No books in that house, except 2 Glen Becks (unopened, by the looks of them), and a Holy Bible. Quite common in America these days, no books in the house, eh?
To make matters worse, by wife had left town already, as she had our dogs with her (and she knows better than to spend a night at her mum's!). I had to stay an extra day to finish some things. So after a bland, microwaved meal (baked potatoes in the microwave? Wrapped in plastic material? WTF?), I tried conversation. It somehow veered towards religion, their main passion along shopping. They started going all out against Catholicism. I'm not very religious, but hey, that's what I am and they know it. So OK, no more conversation. They retired into their room to watch TV, and since there's an apparatus in the guest room too, I figured I'd numb myself with it after well over a decade not staring at one except at dentists' waiting rooms and such.
Friend, what a dreadful mess. Well over 400 channels – nothing to watch, really. I watched local news for a while, and saw this: some bubba type, and his wife, formerly anti vaxx, now urging everyone to get the shots. "We barely survived". The morbidly obese couple went on and on, with nary a mention of their obvious pre-existing ill health as evidenced by the fact that they could barely perambulate due to their excess blubber – still young, too! The TV presenters had that look parents give to their rowdy children after one of their tantrums, when the unruly offspring is ashamed and swears never ever will do it again, mum! "The cost of their hospital stay, before insurance? Over $3 million. The cost of the vaccine? Free." "What a great point, Lindsay… what a great point… in other news, former president Trump is expected to land in prison soon. The reason? Years of tax fraud. Coming up right after the break"
Disgusting, loathsome, puerile, banal, made-for-retards. I could come up with more descriptions, but I don't want to even think about it.
I turned the damn thing off and read the Holy Bible for a while.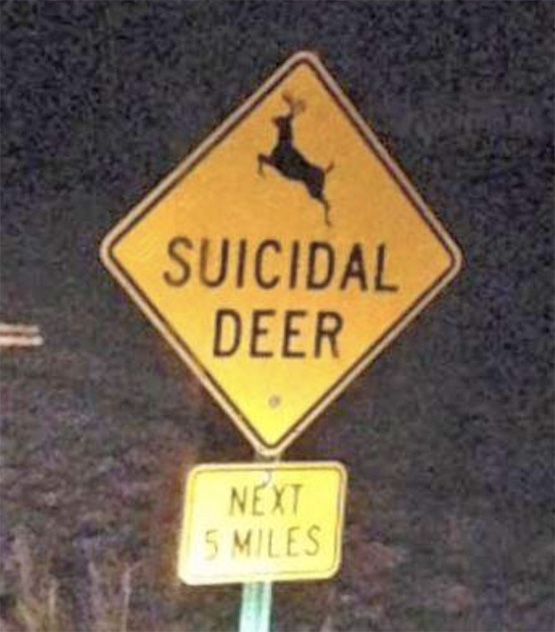 CALIFORNIA IS BETTING $61 MILLION that new highway crossings will keep wildlife safe
by Marissa Garcia
It'd be just another normal day, nearly 17 feet above Highway 101 in Agoura Hills.
A southern alligator lizard and a western toad hide from the heat in the greenery of restored native vegetation. Mountain lion cubs pounce on rocks and spring into the nearby canyons. The sun glints on the feathers of a golden eagle soaring overhead.
This is the scene environmentalists hope will someday become reality on a massive overpass above the ten-lane freeway that cuts through the Santa Monica Mountains near Los Angeles. The project known as the Liberty Canyon Wildlife Crossing is one step closer to happening now that Gov. Gavin Newsom has signed a budget that includes $7 million to help build it — and another $54.5 million for similar projects in other parts of the state.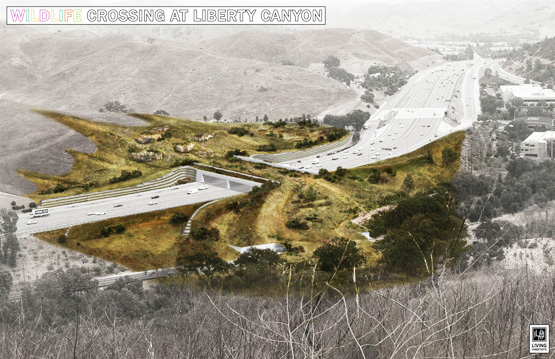 It's part of a larger nationwide push to build special bridges and tunnels that help animals safely cross busy roads and freeways. The goal is two-fold: to give species at risk the space they need to find mates, and to reduce the number of car crashes that imperil both wildlife and humans.
About 7,000 vehicle crashes a year on California highways involve large wildlife, such as deer, according to 2018 data from the Road Ecology Center at the University of California, Davis. That's nearly 20 crashes a day, at least. Manyare likely unreported.
And they aren't cheap — for the drivers or the government. Between 2015 and 2018, wildlife crashes have cost more than $1 billion. The expenses include car damage, personal injuries, emergency response, traffic impacts, lost work and the clean-up.
Highways aren't just crash sites for the deer caught in the headlights; they're also a great divide that can threaten the future of an entire species.
That's because highways cut through critical habitat, making it impossible for animals from one side to breed with animals on the other. This leads to inbreeding and deformities that result from dwindling genetic diversity.
Wildlife crossings can help.
An artist rendering of the Liberty Canyon Wildlife Crossing, which would help restore connectivity in the Santa Monica Mountain Range, buffering mountain lions from extinction. Photo courtesy of National Wildlife Federation/Living Habitats
Utah saw a 98.5% reduction in deer mortalities when it built two animal underpasses on a stretch of highway that blocked traditional migratory routes. In Colorado, wildlife-vehicle collisions dropped by 89% after the state built two bridges to help mule deer and elk safely cross a highway. Arizona, Florida, Montana, Oregon, New Mexico, Washington and Wyoming have also built successful wildlife crossings.
But California? Despite its environmentally-aware reputation, the Golden State lags in building these crossings. The Liberty Canyon overpass would be California's first bridge on the state highway system designed specifically for fostering wildlife connectivity. And even with the new funding, it's still years away from completion.
"We're not an environmental state," said Fraser Shilling, co-director of the Road Ecology Center at UC Davis. "We don't have environmental-based legislation that is resulting in protection of wildlife."
This year, however, conservationists are encouraged by action at the state Capitol. A bill making its way through the Legislature would encourage the state transportation agency to build more wildlife crossings.
And the budget lawmakers passed last month includes new funding to build animal overpasses and underpasses. In addition to the $7 million for the bridge at Liberty Canyon, it also includes $2 million to build a tunnel for deer and mountain lions to pass under Highway 17 in the Santa Cruz Mountains, plus $52.5 million for other wildlife crossings that have yet to be identified.
Wildlife crossings have gained support across the political spectrum — both from environmentalists as well as groups that advocate for hunters. Even though he disagrees with California's ban on hunting mountain lions, Dan Whisenhunt, chief executive officer at the California Deer Association, supports building more overpasses and underpasses.
"This is one time that politics is listening to common sense… because nobody loses in this," Whisenhunt said. "It could be somebody from Los Angeles or San Francisco or out of state, traveling on Highway 395, and they're going to have the benefit of that crossing because there's not going to be the deer running across the road."
Near Lake Tahoe, for instance, three underpasses help mule deer safely wander below Highway 395. In Los Angeles County, the Harbor Boulevard Wildlife Underpass is a metal corrugated tunnel directing coyotes, deer and bobcats under the road. In Orange County, a corridor will provide a safe route for gray foxes, bobcats, coyotes and other creatures to travel between the Santa Ana Mountains and the coast.
Underpasses are generally cheaper than overpasses, and some animals, such as deer, prefer them.
Mountain lions, however, prefer overpasses. A desire to protect them from extinction has led to the years-long push to build the Liberty Canyon Wildlife Crossing. Expected to be complete in late 2025, it will be the largest wildlife passage in the world.
Liberty Canyon overpass could save mountain lions
Mountain lions in the Santa Ana and Santa Monica Mountains face a 99% chance of extinction within the next 50 years, and genetic isolation is to blame.
"They're inbreeding with each other, and they face this extinction vortex," said Mari Galloway, the California program manager at Wildlands Network. "It's shown in this kinked tail."
The kinked tail is a familiar omen. A few decades ago, fewer than 30 mountain lions remained in Florida. Isolated by highways, they were breeding in too small of circles. The proof was in the tail: When on the edge of extinction, the ends of the tails were bent out of shape.
"What they need is genetic connectivity, and so Liberty Canyon will provide more opportunities for outside mountain lions to come in and really give that gene pool a boost and diversity," said Tiffany Yap, senior scientist at the Center for Biological Diversity in San Francisco. "Not only is that crossing really key for mountain lions, but it would help an incredible amount of biodiversity in the area."
Connecting one side of the mountain range to the other, the crossing would provide a safe passageway for mountain lions as well as gopher snakes, mule deer, and desert cottontail rabbits.
The project — expected to cost $87 million — is being funded with public and private dollars, including $250,000 from the Leonardo DiCaprio Foundation and $25 million from the Annenberg Foundation.
"We're not just relying on the state," said Beth Pratt, regional executive director at the National Wildlife Federation.
The investments not only buoy conservation efforts, but also make highways safer and financially self-sustaining. In Placerville, in the Sierra Nevada foothills, a tunnel under Highway 50 cost $1.3 million to build.
"The project is pretty close to having paid for itself already by reducing collisions with deer," said Shilling, the UC Davis ecologist.
Enticing road builders to plan for wildlife
Money, however, isn't the only problem. Even if consistent funding went to wildlife crossings, actually building them can get complicated.
That's because California's transportation planners — under pressure to serve growing communities and alleviate traffic — haven't had much incentive to build tunnels and bridges for animals. State Sen. Henry Stern wants to change that.
"We've got all these big statewide goals around biodiversity and protecting natural lands and conserving open space," the Malibu Democrat said. "But we thought we needed to do something… that really integrated wildlife connectivity and habitat connectivity into the transportation planning process."
Stern's Senate Bill 790 creates an incentive system that allows Caltrans, the agency that builds roads and freeways, to get credits from the state if it retrofits highways with new wildlife crossings.
In the future, when Caltrans builds transportation projects that may have adverse environmental impacts, the department can draw upon these mitigation credits from building wildlife crossings. The concept is similar to other environmental programs that encourage companies to offset some of their pollution by paying for ecological benefits.
The bill passed the Senate with overwhelming bipartisan support and is now being considered in the Assembly.
The bill would also grant mitigation credits to Caltrans when its projects protect species listed under the California Endangered Species Act. Since October 2020, some mountain lions in Southern California and the Central Coast have been granted temporary legal protection under the act, while the state Department of Fish and Wildlife reviews whether they should be listed as threatened.
That means if Stern's bill becomes law, projects such as Liberty Canyon could receive a boost because Caltrans could receive mitigation credits for building a crossing that helps mountain lions.
This issue also represents an opportunity for Newsom to advance his family legacy of mountain lion conservation. More than 30 years ago, his father William Newsom championed the ballot measure that banned hunting the species in California. The governor remembers licking envelopes to help promote his father's hunting ban, he told the Sacramento Bee last year.
Stern talked with Newsom about his connection to mountain lions when they toured the site for the Liberty Canyon Wildlife Crossing almost two years ago.
"This is how he and a lot of other people connect to nature," Stern said. "He was out there with his dad helping get the original mountain lion ballot initiative passed… and he wanted to run around in the wilderness with me… and you could tell, it woke up the kid in him."
(CalMatters.org)

IS THIS CRYSTAL METHODIST CHURCH SIGN IN EFFING, SC, REAL?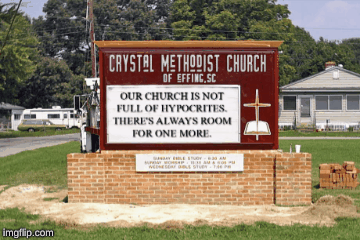 snopes.com/fact-check/crystal-methodist-church-sign/

WAR CRIME JEOPARDY (we supply the name of the operation, you provide the details)
Enduring Freedom
---
Several readers correctly identified yesterday's war crime, Operation Just Cause (1989-90), as Bush Senior's invasion of Panama to depose Manuel Noriega.