VERN PIVER died Monday in San Francisco at the UC Hospital. He was 78. I'll have a full obituary in next week's paper. A native of Fort Bragg, Vern was among the Mendocino Coast's best known and most widely respected citizens. I last saw him a month ago at UCSF. He was still woozy from radiation for a brain tumor, but looking at him you wouldn't know he was as sick as he was. I thought he'd beat it because, as always, he radiated confidence and good cheer, laughing and joking with his many visitors. And he was fresh out of surgery! I first met Vern in '74 or '75 at a men's league basketball game. Boonville was playing Fort Bragg for the local champi­onship. As we were warming up, Vern, who was refe­reeing, came over to me and said, "You gotta take that ring off, sport." It was my wedding ring. I asked him why. "You might get it caught on the rim." I hadn't been up around the rim since I was maybe twenty. I looked at him. Vern looked back. Then he laughed, and walked away. I like that guy, I thought. And when I met him a few years later he was coaching Fort Bragg's varsity bas­ketball team. He was a very good coach and, as everyone knows, Vern had been a great athlete himself — a terrific running back in high school, a professional baseball player who certainly would have made it to The Bigs if he hadn't played before the expansion teams were added to major league baseball. I put it to him: Are you the best athlete ever out of Fort Bragg? "No, Silva was better," he said, referring to a much younger baseball pitcher. The year I remember Vern coaching basketball at Fort Bragg, which was in the middle 1980's, he took Fort Bragg right on past heavily favored Boonville with a team of Fort Bragg kids that Boonville should have beat by twenty. (Boonville did beat Ukiah by twenty. Beat Ukiah twice that year by twenty.) But Vern simply out-coached Boonville who, that year, could put five kids on the floor who could all shoot. You put two kids on the floor who can shoot at the high school level and you win. With five, you beat everybody, or should beat everybody. I know he was from a big family. Vern's dad worked at the mill and Vern put in his time at the ground level of the timber industry. He knew all about Fort Bragg, a living history of the town he devoted himself to in all kinds of ways. The guy lived a long and happy life. At least I never met him when he wasn't anything but laughing and joking. He certainly married the right woman. Betty Piver was with him all the way, and it was she who made all those long drives from Fort Bragg to the city and back over the last years of Vern's life — wife, nurse, driver, medical watchdog, as strong a woman as you'll meet. It's a bright, sunny day in Mendocino County on Tuesday the 6th of March, but for everyone who knew Vern Piver it's not as sunny as it was yesterday before we got the news that he'd left us. Services are tentatively set for Saturday noon in the Fort Bragg High School gym.
GOLDILOCKS, THE UPDATE: We've had four calls telling us that Miss Audet can be regularly found sitting in front of Mendosa's Market in Men­docino with her black and white miniature bulldog spare changing for booze money. At a very young age, she's racked up an impressive number of drunk charges. We're curious about what has driven her to drink, and by drawing attention to her we hope she can get the help she needs before something bad happens to her, if it hasn't already. Why our interest? Because of her youth and apparent fragility, and the obvious fact that she's in harm's way. We hope someone, maybe even Ms. Audet herself, will tell us how she came to be drunk and with­out hope in Mendocino.
DIM BULBS: Justice is being served, slowly but surely. As some may recall, my truck was broken into last June at Lake Mendocino under cover of darkness at the southern boat ramp parking lot. About $1300 worth of cash and goods were ripped off. I figured it would be a total loss as insurance doesn't cover personal effects and you rarely hear about perps in these cases being caught. As it turned out though, the Sheriff's Department had some guys on their watch list and nabbed them with some of my stuff. But, of course, that wasn't really the stuff I wanted back. They did have a bunch of other people's stuff and the District Attorney turned the screws on them pretty good. So I'm here to report that I have received my first resti­tution check for $21.39 from one of the thieves. Hope­fully, the other perp has found a better job and his check will be for more.
So if Patrick Dale (the perp) pays at this rate it will be about five more years to recover my losses. In any case I would like to thank Deputy Denton for tracking the shitheads down, the DA's office for pursuing the case, and Evidence Tech Debbie for making sure I got what was recovered back to me. Now here's the good part: All this could have been prevented with two high pressure sodium lightbulbs — that is (I believe) the only two bulbs that light that south parking lot at the Lake. As the Sheriff was taking my account that day, an Army Corps of Engineers supervisor was also in attendance and I could not stress enough to him that this would not have happened had the bulbs been replaced. He responded that they would have a meeting to determine the proper steps necessary to allocate funding and deter­mine the plan of attack to get the bulbs changed. Appar­ently light bulb changing is not in the Army Corps offi­cer's scope of duties. He added that the truck necessary for such a task was at Lake Sonoma. I left that day fig­uring sure, they'll get it right on this — how hard is changing a lightbulb? So... a month and a half later I went back to the same lot to go wakeboarding with the same two great friends who had spent the night out at the boat with me and we were camping at same spot where we were on the night my stuff got ripped off. I hadn't noticed but when my friend came to pick me up and get something out of his truck, there it was: sitting on its rims with all eight tires drained of air. At least he didn't get broken into. This time we were pretty livid about the light situation still not being remedied. The Army Corps officer just continued with his bureaucratese about budget cuts, staffing, equipment deficiencies, etc. Two bleeping light bulbs. So if you're wondering why the country is broke — well, we only hire the best and the brightest. — Ward Hanes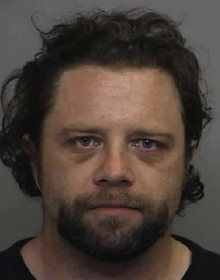 FORT BRAGG FILL-UP. A Comptche couple pulls up to the USA pumps Monday afternoon at Highway One and Simpson Lane just south of Fort Bragg. As Mister fills up, Missus. goes off to the restroom. Mister walks out of the service station's office after paying for his gasoline just as a man standing outside the restroom door begins kicking at the door and yelling, "I'm going to fuck you up, bitch." Mister hustles over to get between the door and "this little tweeker psycho-looking dude" and says to him, "Hey, that's my wife in there!" Mister has never seen tweeker dude before. "He knew a woman was in there because a couple of times she'd called out, 'One minute, please.'" Mister tells the clerk lady to go call the cops as he and tweeker dude commence hand-to-hand combat. Tweeker dude is soon pinned to the ground, but eventually wriggles free and takes off. Mister gets his license number and tells the cops what has happened. The cops drive Mister and Mis­sus to an address on nearby Ocean Drive where Mister and Missus identify tweeker dude as the man who has attacked them. Tweeker dude is identified as Kris Ander­son, 39, of Fort Bragg. The deputy assures Mister and Missus that tweeker dude is as good as over the hill and locked up in Ukiah. "I'm charging him with felony assault and terrorist threats," the deputy says. "But I called the jail this morning (Tuesday) and he's not there!" Mister says. "He wasn't arrested. They just wrote him a ticket and sent him home. I smell a rat."
THE SITUATION was already grim
And the lighting was already dim
Then came a tip-off
To solve the big rip-off
But the amount he got back was too slim.